Solar-powered campus bins able to devour more waste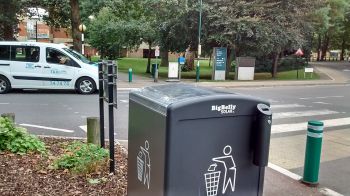 Sussex Estates and Facilities (SEF) have invested in a set of solar-powered bins on campus that can swallow up to five times more waste than a normal bin.
The eight new Bigbelly bins use the sun's powerful rays to compact the litter inside, meaning they can stomach loads more rubbish.
The hi-tech bins also use super-smart tracking systems to send text and email messages to SEF when they are full and need emptying.
Stuart Bettis from SEF said: "Solar-powered bins are a great invention that will help us to tackle waste at some of the busiest campus hotspots and to keep campus tidy – as squirrels and birds can't get in to pull the waste out.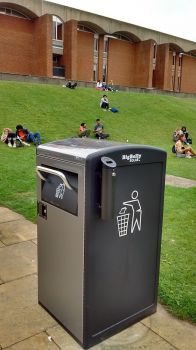 "They will also help to reduce collections and therefore costs, free up staff to carry out other collections and ensure we have cleaner public spaces on campus.
"This is part of our ongoing improvements to refuse services that will benefit all of our students, staff and visitors."
A solar-powered unit takes up roughly the same footprint of an existing bin but runs entirely on the sun's energy and, even in low light, powers a 12-volt battery.
Source: University of Sussex
http://www.sussex.ac.uk/broadcast/read/36960